Hired is our blog post series where we feature success stories and testimonials from tech professionals that were hired through Landing.Jobs. We're always really proud to shine a spotlight on their journeys, so this is their moment to shine. May they also inspire you to pursue the best in your tech career! ✨
---
Tell us about yourself: what's your name and what do you do? 
Tauan Vivekananda, I'm a Product Designer.

How did you find out this is the job you wanted to do? 
My past experience was mostly working for small companies, agencies, and startups, and most of the time, I was the "design team of one", but this time I was looking for a bigger company where I could work with many experienced designers and learn more from them to grow in my career. Moreover, I also liked the idea to work focused on Design Systems, as this is one of my favourite areas of study in Product Design.

How did you come across Landing.Jobs? 
When I arrived in Portugal from Brazil in 2018, I started looking for jobs in the UX/UI area and Landing.Jobs was one of the websites I knew back then but actually didn't use. Then, about one year later, I was at a UX Meetup in Lisbon, and there were some people from Landing.Jobs to talk about career and opportunities. So after I left my last job, I remembered to take a look at Landing.Jobs again and see the opportunities there.

What did you like the most about the platform? Did we meet your expectations?
Not only met, but exceeded my expectations. For me the best thing was with Landing.Jobs helping me to get feedback from Hitachi Vantara when they were taking more time to answer about the status. 
How was the recruitment process for your job? 
It took more time than I was expecting, but this was because it started at the end of the year, and the process got delayed because some employees were on vacation.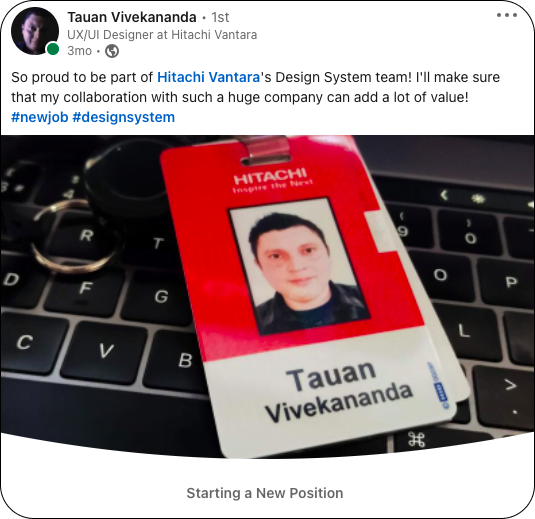 What made you accept the offer from your current company?
The possibility to work on a project with many experienced designers and to work with a big international company that would also be a great experience in my career.
And how is your new work experience going?
I didn't start yet, but I'm already doing the first onboarding steps, and it's going quite well!

What do you think will be your biggest professional challenges for the foreseeable future?
I'm very ambitious in my career, and I don't like to settle on a position without growing myself to the top. So, I believe my greatest challenge now is to keep rising and growing in such a big company as Hitachi Vantara.
Would you advise Landing.Jobs to a friend? What would you say to them?
For sure! I will advise Landing.Jobs for every friend that works in IT-related jobs! It has a much better experience than LinkedIn to find a job, not only about the product experience itself, but the support from Landing.Jobs team was awesome!
---
Check out our many job openings if you're looking for a new jump in your tech career! 🚀  Hitachi Vantara is also currently expanding their team, so if you want to join Tauan check out their openings here!
We've got your back!