2022 was full of surprises and new projects. It's actually the year we've launched two of our biggest projects recently, the Global Tech Talent Trends and Portugal Tech Hub, and we couldn't be more excited to strive further in 2023. 
But let's go over the highlights of Landing.Jobs' year. 
Global Tech Talent Trends — we launched the biggest community-led study about tech careers
After years of producing the Tech Careers Report, a study we did about tech careers focused only on Portugal, we decided it was time to go global and provide insights from which the tech community would benefit. 
And so the Global Tech Talent Trends was born. A series of themed reports that provide the best insights on things such as salaries, programming languages, frameworks, career drivers, remote work trends, and more. 
2022 saw the first edition born, which resulted in more than 7500 report downloads, 136 countries and 6 continents represented, 6 webinars and 5 offline events, with more than 6000 attendees and more than 500,000 tech professionals reached across the globe.

The results exceeded our expectations and goals for the project and only made us even more ambitious for next year's edition — which is already "cooking" (if you're a tech professional and want to help empower the tech community with us, enter the survey here so we have data to work on in Global Tech Talent Trends 2023). 
Portugal Tech Hub — placing Portugal in the spotlight as one of the best tech hubs in the world
We'd been doing it before through our Hiring in Portugal ebook, but it was time we took things to a new level. Hiring in Portugal was good, but we wanted it to be great. 
We gathered all of the best public and private organisations in an open alliance — Portugal Tech Hub. It's much more than an ebook (although we have that too, and it's an incredible resource). It's a project that has kickstarted cooperation between entities and established a true network of support for those who wish to come to Portugal. 
Different international sources highlight Portugal as one of the top tech hubs worldwide, so it's fair that we want to showcase our country's best qualities and help companies and tech professionals come here. 
2023 has a lot in store for Portugal Tech Hub, so keep an eye out on our LinkedIn. 
Future.Works — bigger, better, crazier
Future.Works has an impressive history that dates back to 2015. Year after year, our team looks to improve and provide an even better experience than the last.
On October 2022, we did it again at Centro de Congressos de Lisboa, in a never-seen-before edition of Future.Works that not only welcomed tech professionals and tech recruiters, but also thought-leaders, decision-makers, public and private organisations, and more. 
There were more than 3000 attendees from 110 countries, a true cultural hub taking an active role in reshaping and revolutionising the future of work. — Landing.Jobs
On the Future.Works online platform and app, more than 4000 connections were made and more than 500 meetings booked. Attendees had access to 100+ sessions by 150+ speakers. There were tracks for every taste: Building Global Teams, Work Paradigm, Career, Cybersecurity, Data & AI, Leadership, and many more. 
Then there was the Landing.Passport. An unforgettable, fun experience where so many attendees filled their passports with stamps by talking with companies, playing Nerf Gun with us, asking the Landing team for random facts, sharing content on social media, and more. The result? A super engaged crowd that won 125 T-shirts, 200 rubber ducks, and 28 tickets to the boat party!
And last, but not least: the epic boat party. A 3-hour-long boat ride along the Tagus river with free food and drinks welcomed the Landing team (and alumni!), the 28 attendees that won tickets, companies, and people who wanted to have fun! 
If you want to receive news of the 2023 edition, don't forget to follow Future.Works on IG or keep an eye out for https://future.works/. 
Tech Hiring Community — touring the Portuguese metropoles 
Lisbon and Porto received the Tech Hiring Community in 2022. Two half-day, full-house events of learning, training and knowledge sharing, with crowds of 300 people each, C-levels, VPs & Senior Tech Recruiters. "Redesigning work" was our motto for this year as we hosted a series of talks on relevant subjects around tech salaries in Portugal, statistics on "The Great Resignation", global recruitment frameworks for distributed teams, remote candidate experience, the ethos behind hiring distributed teams, tips for identifying and blocking biases, and much more.
And. so. many. events.
Being in different places doesn't have to mean being distant, which is why we took events to a whole new (remote) level. In 2022, we hosted 40 webinars — from career sessions, remote job fairs, tech expert sessions, product launches and more.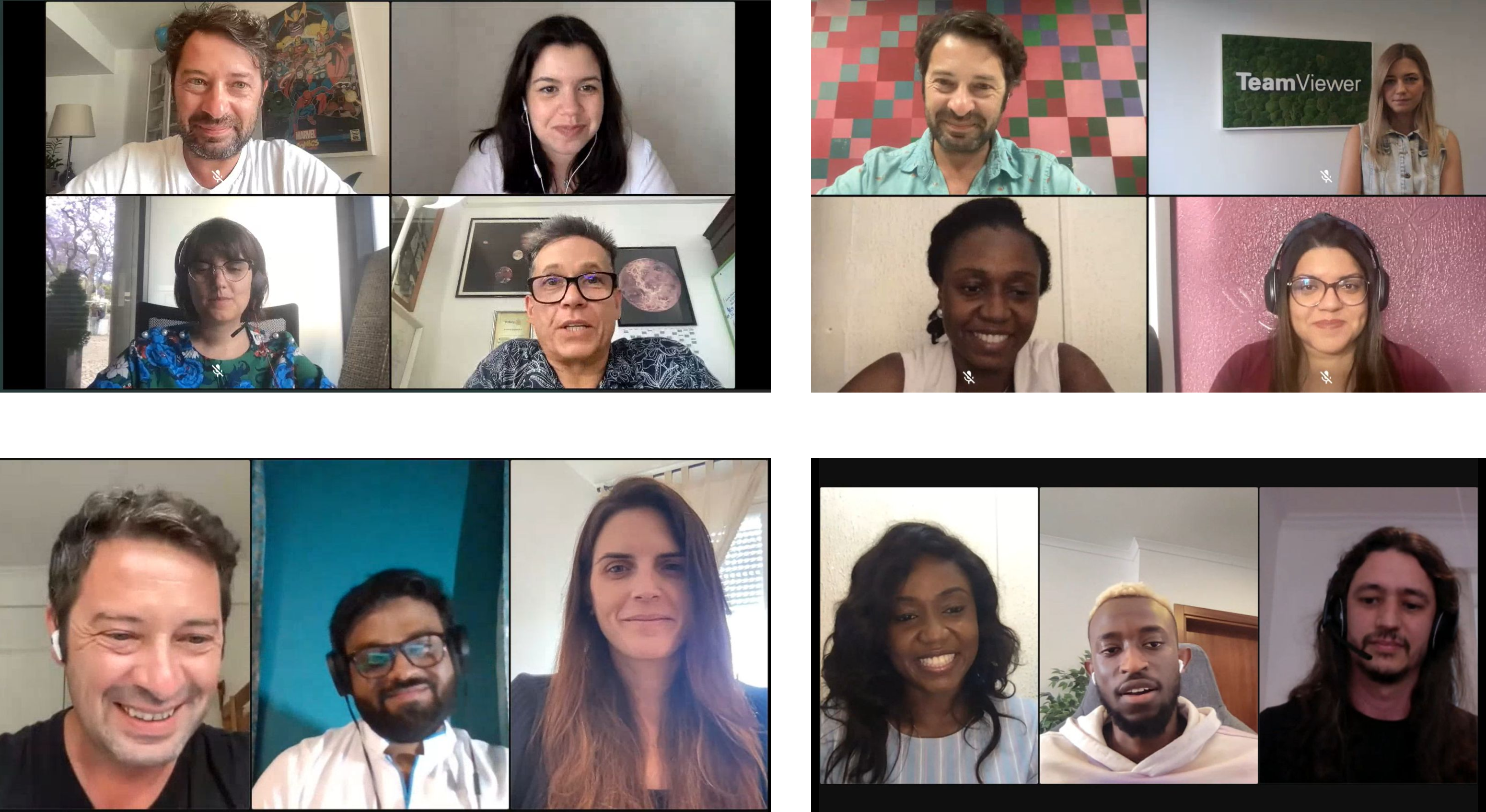 And it didn't stop there: we knew we couldn't just as well forget in-person experiences altogether because we miss you, and there is nothing like a good friendly gathering. We hosted 8 onsite events, not only at the cooler-than-cool Landing.Jobs office near Marquês de Pombal in Lisbon, but also in different (and also very cool) partner offices (can I say how in love we fell with Evolution's office??). 
Tech Recruitment Academy — a people-grown success
On September 26th, we kick-started the 3rd edition of our Tech Recruitment Academy, a 100% remote program promoted by Landing.Jobs that aims to specialize people in tech recruitment. 
The numbers talk for themselves: 127 applications received, 20 (awesome) trainees who've joined, 3 (awesome) Landers who've joined our Academy as interns, 3 Landing.Jobs teams were involved and dedicated to making it happen, 9 (talented) specialized Trainers dedicated to sharing their knowledge with our trainees, and so much more. All done in 2 months.
If you want to be one of the first to know more about the next edition of our Academy, you can apply directly here. 
Mucho Love — spreading love in Rock in Rio 2022
2022 was also the year we decided we had a knack for music! Yes, you read that right. Some of our most musically talented Landers came together, and the Mucho Love band was born. But it didn't stop there — they took their talent to Rock in Rio to represent Landing.Jobs at the Brands Like Bands. A moment to remember forever. 💙
All roads led to Fes, Morocco 📍
The Landing.Jobs team had the time of their lives at Fes, Morocco, in a weekend filled not only with the alignment of goals but also a lot of wandering, exploring, daydreaming and partying!
---
2021 was awesome, 2022 was better, and I'm sure 2023 will outshine both. Ready to grow and thrive alongside us? 
Ps: if you're looking for a new tech job, don't forget we have your back. And if you're looking for a partner to help you grow your business, you know what to do.