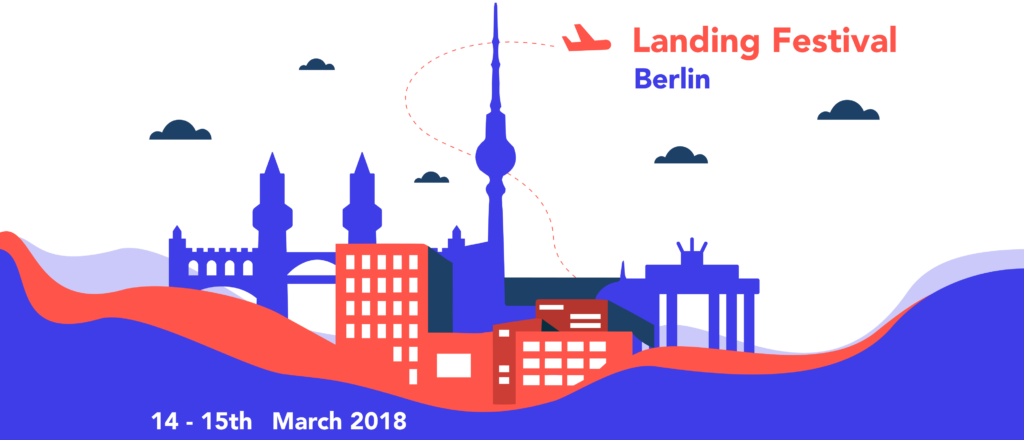 L
anding Festival is Berlin's hottest tech career event for 2018, reinventing the job fair and creating the ultimate way for businesses and recruits to meet up. Bringing the world's best talent to the German tech scene, we have 5 reasons why your company needs to join us:
👨‍💻 The crème de la crème: engage with top-notch developers
Your team will have the opportunity to meet face-to-face, interview and hire from a pool of more than 1,000 select tech professionals. In fact, 200 will be flown-in for free by us, after deep tech curation. They will come from all over the world, but are moved by the opportunity to land a job in Berlin.
Meeting them all in one place means saving time and money, since we're filtering only the best applications. If you don't have time to engage with them during Landing Festival, that's okay. You can engage with likely candidates through our platform for 3 months after the event.
🎤 It's showtime: showcase your culture onstage
Our festival is a great place to show off your brand to the tech community and to attract fresh talent. Our participants will be looking for challenging jobs and this is a great way to engage in meaningful conversations about the technologies you use, your day-to-day activities and what's like working with you. It can also be a chance to cement your company's voice, to stand out from the crowd and to show what you've got up your sleeve.
Collaborate with peers who share the same passion (and challenges) as you
Conferences are the perfect time to meet other people who face the same issues you do, and realise that their approach might work for your organisation as well. There's no better advice than from someone who's on the same page as you. In a casual and informal environment, with a great view and perhaps a beer or two, you can share your ideas and concerns. Where else will you have a chance to be in the same place as some of the biggest influencers in the tech industry?
📈 Gather business insights with the best
Whether you're attending a talk or engaging in social conversations, Landing Festival will let you learn from thought leaders, industry innovators and experts. We're expecting more than 40 international speakers and 50 leading companies! They'll talk about technologies you may not know about, what works (and doesn't) in tech, and what's ahead for the future of your business. These are all key reasons why you should attend.
🍻 Time to unplug: enjoy some downtime
Recharging your batteries out of the office is very important for the creative process. It's usually during breaks that those "a-ha" moments happen. The Landing Festival is an opportunity for you to disconnect from email, escape the meeting room and other routine activities. If you're bringing your team, it's also a great time for networking and bonding activities. That'll definitely foster team spirit, empathy and motivation.
---
Don't miss the opportunity to take part in this unique event! We're waiting for you in Berlin on March 14th and 15th. Save the date and prepare to rock the boat! Pre-register without commitment so we can get in touch. We're waiting for you!